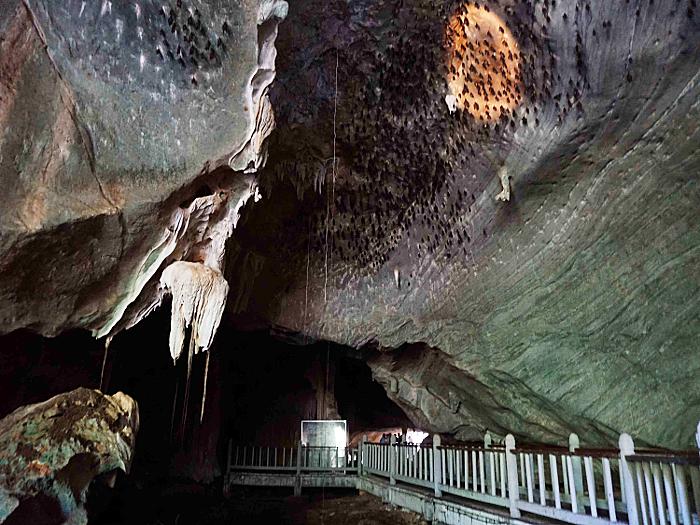 Bat Cave
Kelawar (Bats) Cave is located in the heart of Kilim mangrove swamps within the Kisap Forest Reserve. The cave is about 60 m long and was named as such because it supports hundreds of bats. It consists of two caves. The western cave has a floor area of about 270 m sq with a low roof (1-3m) trending northeast. The second cave is bigger, having a floor area of about 750m sq, with roof reaching 10m high and trending north-northwest.
Interesting features and structures in these caves include stalactites, stalagmites, and fallen rock blocks. The most interesting and important features is the occurence of old shells encrusting on the cave wall and roof. Radiocarbon dating indicated that the shells are about 5000 years old. The altitude of the shells clusters shows that the sea-level at that time was 2 m higher than the present level.
Eagle Attraction
Feast your eyes on the antiques of the Brahminy-Kites and The White-bellied Sea eagle. Waiting patiently on high branches of the mangrove trees, assessing their next move, flying over your heads before launching straight into the water for food with great agility.
Crocodile Cave 
Situated off the Kilim River, Crocodile Cave is unique because it is actually a natural tunnel developed in the limestone by an underground stream that once flowed in this area during the low sea-level. Now the tunnel turns into a beautiful cave. The river flows right through the arched cave and at low tide, a small boat can navigate from one side through to the other.
Inside the cave there is an ascending chamber flanked by walls of limestone with minimal stalactites and stalagmites. Small colonies of bats roost on the ceiling of this cave. One can also observe ancient shells sticking on the wall and roof of this cave.
When looked at certain angles, this cave resembles a look of a crocodile, hence the name of the cave came about. There are no crocodiles to be sighted at this cave.